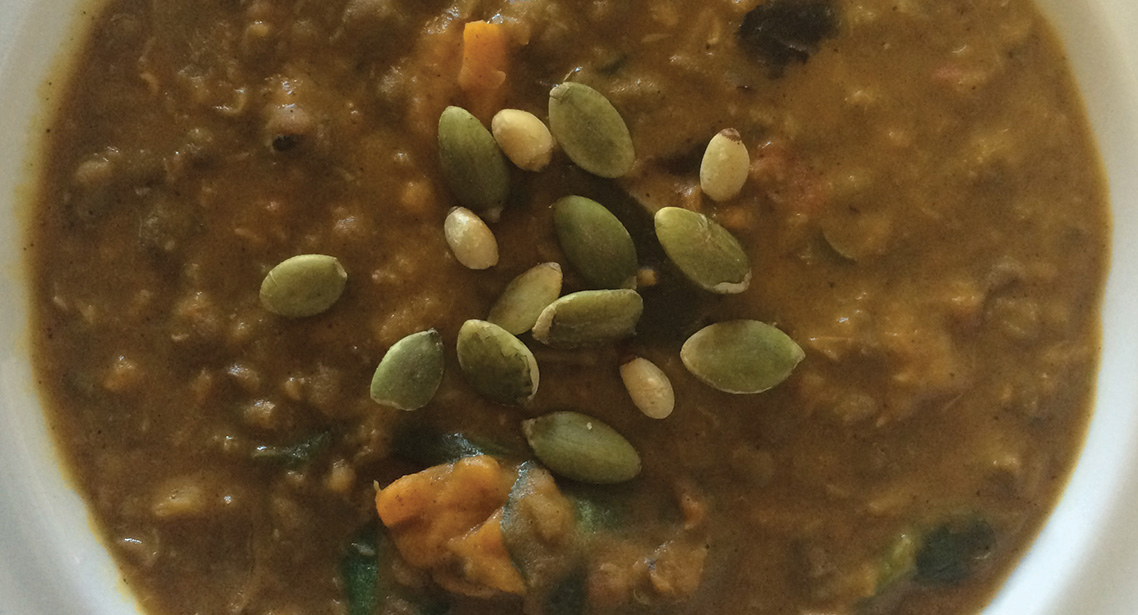 Ingredients
1 teaspoon coconut oil
1 red onion
4 garlic cloves
1 inch fresh ginger
3 green chillies
1 teaspoon cinnamon
1 ½ teaspoons turmeric
1 teaspoons paprika
2 dried kaffir lime leaves
1 sweet potato
4 fresh tomatoes
400ml coconut milk
150g mung beans
150ml coconut cream
1 tablespoon tamari
A handful of spinach
Sea salt & pepper
To garnish
1 handful of chopped coriander
1 handful of pumpkin seeds
1 handful of pine nuts
Directions
Soak the mung beans overnight and then cook in line with the instructions given on the packet.
Grate the ginger, chop the onion, garlic, chillies and tomatoes, and peel and dice the sweet potato.
Heat the coconut oil in a large pan. Add the onion, garlic, ginger, chillies and fry until the onions are soft.
Add the cinnamon, turmeric, paprika, lime leaves and tomatoes and cook until the tomatoes are soft.
Add the sweet potato and cook for 3 minutes, then add the coconut milk, the tamari and the cooked mung beans. Simmer for 20 minutes, stirring occasionally, and then add the coconut cream and simmer for a further 5 minutes.
Whilst the curry is simmering, toast the pumpkin seeds and pine nuts in a dry frying pan, stirring regularly, until the pumpkin seeds start to pop and the pine nuts start to brown.
Once the curry is cooked, stir in the spinach just before serving.
Season to taste.
Sprinkle with the pumpkin seeds, pine nuts and chopped coriander to serve.