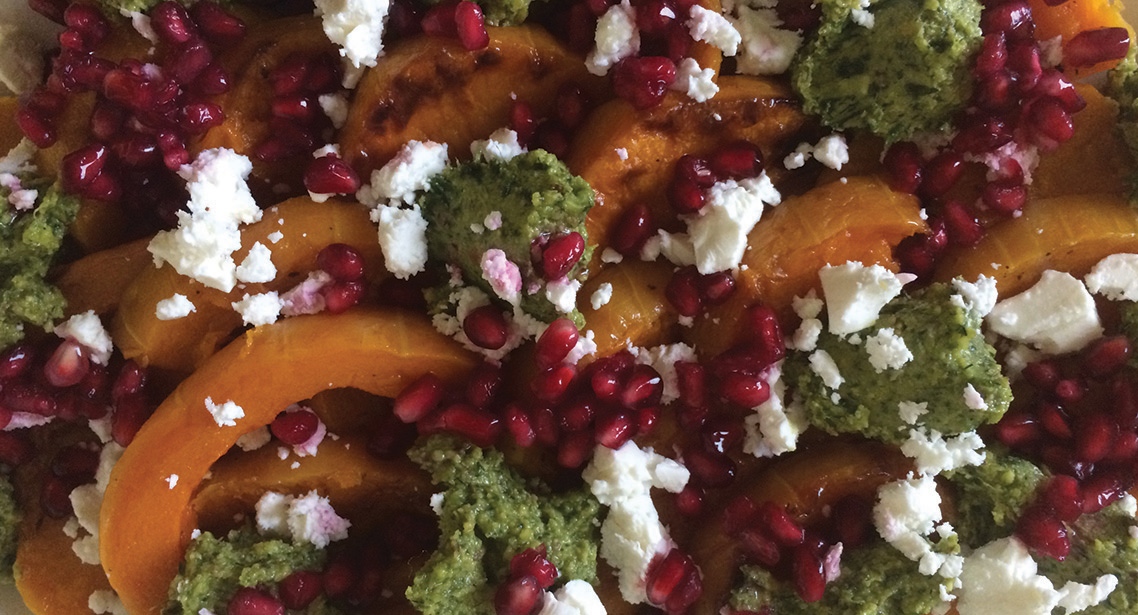 Ingredients
For the pesto
100g pistachio nuts
70g parmesan cheese
30g parsley
30g coriander
30g dill
Extra virgin olive oil
Juice of 1 lemon
A pinch of sea salt
For the salad
1 butternut squash
Olive oil
150g feta cheese
80g pomegranate seeds
A handful of pumpkin seeds
Sea salt & pepper
Directions
To make the pesto, blend the nuts, parmesan, herbs, lemon juice and sea salt in a food processor, adding olive oil to loosen the mixture.
Pre-heat the oven to 200°C.
Cut the butternut squash in half, deseed and then slice width ways so that each slice is about 15mm thick. Coat the slices in olive oil and season.
Roast the squash slices for approximately 50 minutes, until they are soft and the edges are starting to brown.
Whilst the butternut slices are cooling, toast the pumpkin seeds in a dry frying pan, stirring regularly, until they start to pop.
Assemble the salad by placing the butternut squash on a plate, drizzle with the pesto and top with the feta, pomegranate and pumpkin seeds.