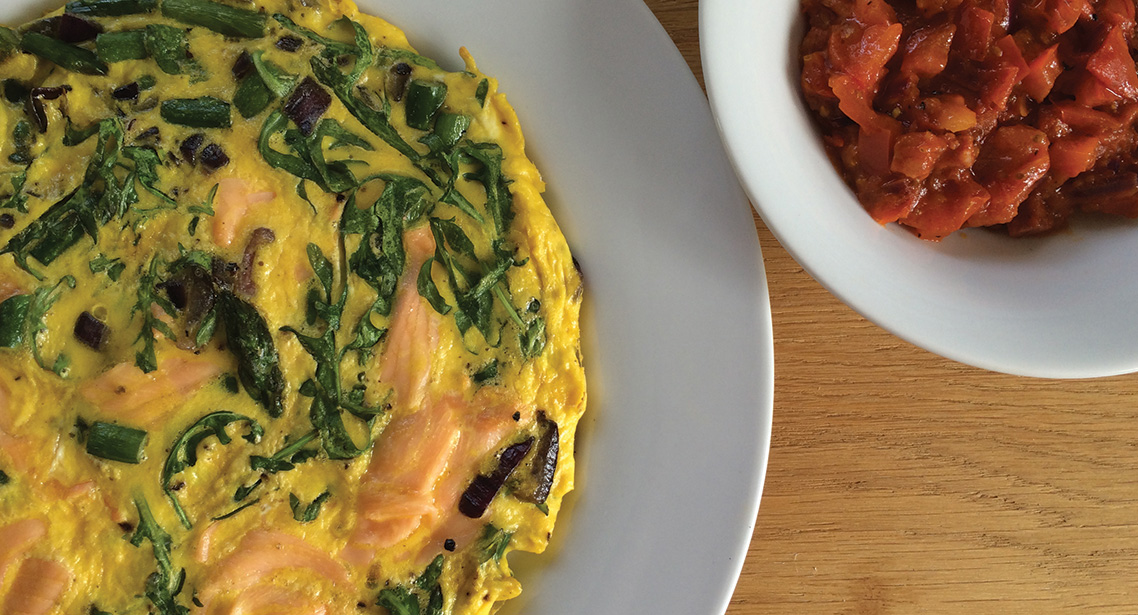 Ingredients
For the Fritatta
3 eggs
Two slices smoked salmon
1 asparagus spear
A handful of rocket
⅛ red onion
Black pepper
Coconut oil for frying
For the salsa
A couple of handfuls of cherry tomatoes
½ red onion
½ red pepper
1 inch chorizo
A pinch of cayenne pepper
Sea salt & pepper
Coconut oil for frying
Directions
For the Fritatta
Chop the onion, asparagus and smoked salmon.
Whisk the eggs and add the smoked salmon and black pepper to the liquid.
Fry the onion and asparagus in a little coconut oil for a few minutes and then add the rocket.
Add the egg and salmon mixture to the frying pan, running a spatula around the edge to loosen the sides.
Fry for a few minutes and then place the frying pan under a grill until the eggs are cooked.
For the salsa
Chop the cherry tomatoes, onion, red pepper and chorizo.
Fry the chorizo for a few minutes in a little coconut oil.
Add the tomatoes, onion and red pepper and fry until they are soft.
Add the cayenne pepper and season to taste.
The salsa can be eaten warm or cold.